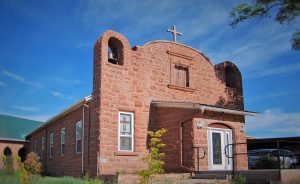 Sunday Mass
We are pleased to announce that from Sunday the 31st of May Bishop Wall has permitted the public celebration of Mass in Churches of the Gallup Diocese.
Read More from the Diocese by clicking on this link:
Guidelines for Parishioners Preparing to Return to Public Masses
Effective Date: Friday, May 29, 2020
Holy Mass will begin being celebrated at St. Anthony's in Zuni at 10.00am on the 31st May 2020.
Please note: Social Distancing practices are still required.
Church attendance is limited to 25% capacity
Mass will also be televised in the cafeteria. Holy Communion will be distributed there during Mass.
Members of the congregation are asked to sit at least two seats apart unless they are members of the same household.
Please remain 6 feet apart (three rows of seats) when approaching the altar for reception of the Blessed Sacrament.
Holy Communion will be distributed under the single species –(Bread only) and placed into the communicants hand.
Blessing will be given as usual to those unable to receive the Sacrament.
Please continue the use of face masks for the benefit of the whole community. We regret that as of yet we cannot have our social gathering after Mass.
Welcome back to our Sunday Mass as we begin to gently and slowly return to a more regular worship of our loving God and Father of all.
Priests will be available to celebrate the Sacrament of Reconciliation on request. Please telephone 1-505-782 2014 to arrange an appointment.
Holy Mass is available Sunday 11.00am on the "live-stream" link below.
Live Mass from the Diocese of Gallup www.dioceseofgallup.org
Daily Mass is transmitted on RelevantRadio.com