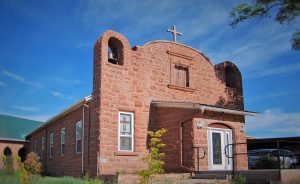 In light of the attempts to restrict the spread of the Covid-19 virus, Bishop Wall has dispensed all the faithful from the obligation to attend Sunday Mass and Holy Days of Obligation until further notice.
All public church services have been suspended from 18th March 2020.
St. Anthony Indian Mission church will be open for private worship from 9.00am until 11.00am on Sundays.
Monday to Friday church will be open from 7.00am until 8.00am for private worship
As usual priests will be available to celebrate the Sacrament of Reconciliation on request. Please telephone 1-505-782 2014 to arrange an appointment.
Holy Mass on Sunday will be available at 11.00am on "live-stream".
www.dioceseofgallup.org
Daily Mass is transmitted on RelevantRadio.com